COVID-19 Vaccines
Daily Symptom Checks Still Required
Please keep doing your daily symptom checks when you're vaccinated—it's required. Everyone on campus must continue masking and distancing.
We are not currently offering COVID-19 booster shots on campus. Please consider scheduling your booster in advance of winter break. Check out the Santa Cruz County Health website to find a location providing them in your area.
Vaccine Requirement - Due on December 13, 2021
For newly enrolled students starting in Winter 2022, or students returning from a Leave of Absence in Winter 2022, per UC policy, you must upload your proof of COVID-19 vaccine by December 13th in order to access campus this Winter.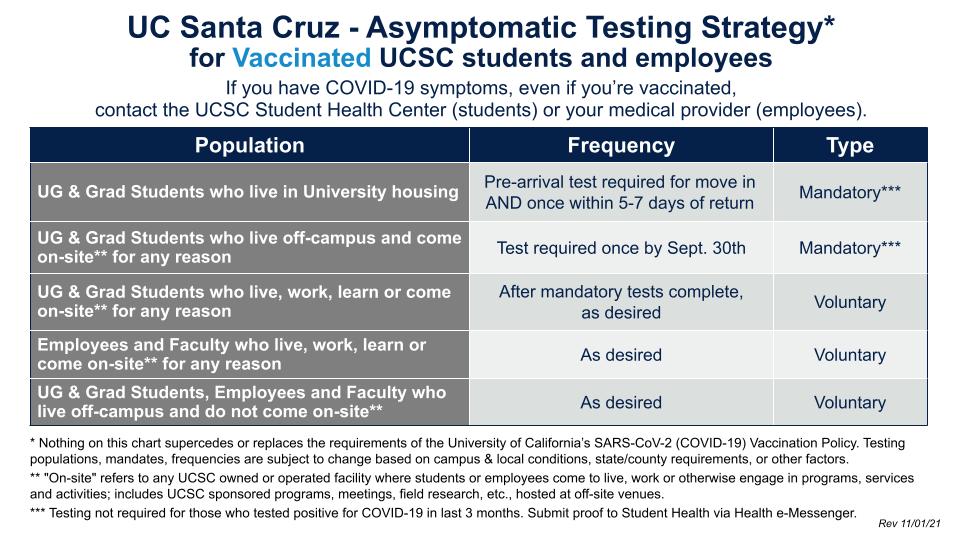 PDF of above charts of testing strategy
To get a mail in COVID-19 test - mail home kit
For students, it's as easy as 1-2-3:
Log in to

Health e-Messenger

with your CruzID and Gold password. Confirm your date of birth.

Select

Medical Clearances

on the left-hand side, then

COVID-19.

Click the green

Update

button.

Upload a copy of your vaccine card, and

don't forget to fill out your vaccine type and dates of your doses

(one date for Johnson & Johnson, and two dates for Pfizer or Moderna). Click

Done

and you're compliant!
For employees: Log in to Health e-Messenger with your CruzID and Gold password. The experience is slightly different than students, so follow these illustrated step-by-step instructions for uploading your proof of vaccination. If you have questions about the vaccine policy and whether it applies to your situation, you can
email SHRhelp@ucsc.edu.
Remember: If you got vaccinated on the UC Santa Cruz campus, your vaccine record is already on file.
On This Page
About the Vaccine
Eligibility
Vaccines are available for currently enrolled UCSC students. Students who are newly admitted but not yet active are eligible for vaccines and testing but must call 831-459-2500 to schedule.
We do not offer vaccines to the public. Members of the public should contact their healthcare provider for vaccine information, or visit the County of Santa Cruz Health Services Agency vaccine website.
Cost
On-campus COVID-19 vaccines will be free to all registered UCSC students. 
In accordance with CDC/CMS guidance, vaccine providers may not bill patients directly either for the vaccines or for vaccine administration fees. If you have UC SHIP and you receive the vaccine(s) and subsequently receive a notice from your vaccine provider requesting additional information due to the claim being denied by Anthem, then you should immediately contact the UCSC Student Health Center Insurance Department at 831-502-8440 to request a retroactive referral be faxed to the vaccine provider's office and/or billing department as soon as possible. Students should also contact the provider's office and/or billing department immediately upon receiving a bill to advise them that a retroactive referral has been requested. The provider can then resubmit the claim to Anthem with the referral and be reimbursed accordingly.
Availability and Appointments
For the primary COVID-19 vaccine series, students should call the Student Health Center to make an appointment (831-459-2500); Employees must go off campus for COVID-19 vaccines.

Student Health Services is not providing booster doses at this time. People that meet the criteria for booster doses can go off campus.
See "Alternative Vaccine Sites" for more options.

Location
Student Health Center, located on McLaughlin Drive across the street from Colleges 9 & 10. (map). Come to the main entrance for your vaccine.

Parking

Parking is limited. The closest parking is in lots 128, 164, 165, and 166. The Core West Parking Structure is an 8 minute walk to SHC. (map of parking lots)
Scheduling
Newly admitted students and students from other UCs: Do not schedule online. Call us at 831-459-2500 to schedule.
Current students:
Log into the UCSC patient portal, Health e-Messenger. Use your CruzID and Gold password. If you haven't logged in before, see the Health e-Messenger registration instructions (instrucciones en espanol) before scheduling.
If this is your first time on Health e-Messenger go to Medical Clearances and sign the Notice of Privacy Practices.

Choose

Appointments

from the left menu.

Select the

Schedule Appointment

button.

Choose

Immunization

.

Enter your phone number.

Enter your address/verify that your address is correct.

Choose the date and time you want. If you see "No appointments are available for the specified range," that means the clinic is currently full. 

Check your UCSC email for a confirmation email. 

If you have technical difficulties, call at 831-459-2500.
Citas para la Vacuna COVID-19 instrucctiones in español.
What to Expect at Your Appointment
Here are a few tips to help you prepare.
Before Your Appointment
Stay home if you're sick.

Do not

come to your appointment if you have a cough, fever, or other cold or flu symptoms, have had a recent COVID-19 diagnosis or have had a close contact exposure to someone with COVID-19. Instead, stay home and call your primary care provider immediately.

Wear appropriate clothing.

You will need to expose your entire upper arm and top of your shoulder.
During Your Appointment
Wear your mask

and stay socially distanced. You'll be checked in and vaccinated by staff wearing masks and gloves. 

Be prepared to wait.

After you've been vaccinated, you will be required to wait for 15-30 minutes as a nurse monitors you for allergic reactions.
After Your Appointment
Monitor yourself.

If you have any adverse reactions after you are home, call 911 immediately for emergencies or contact your healthcare provider. Learn about

normal side effects and what to expect after your vaccine

.

Protect yourself and others.

Remember that the vaccine will not protect you until two weeks after your single J&J vaccine, or your second dose of Moderna or Pfizer. Cover your mouth and nose with a mask when around others, stay at least 6 feet away from others, avoid crowds, and wash your hands often.​
Alternative Vaccine Sites
If you are unable to get a vaccine at the Student Health Centers' vaccine clinics, we encourage you to check with alternative vaccine providers like:
Transportation tip: Santa Cruz Metro offers free bus rides to anyone going to their COVID-19 vaccine appointment within Santa Cruz County.
Exception process
Employees can initiate a request for exception by accessing the form located

here

. The form is active and currently accepting requests. If you are a UCSC student who is also employed by the campus in any capacity, you will need to utilize the student form listed below.
Students can logon to Health e-Messenger and go to Downloadable Forms for Pregnant/Medical/Disability/Remote on the left navigation and then download the appropriate form. When completed scan/photograph your form and upload back to the same location. (this starts the process to review, a submitted request is not an approval). 

For technical questions about how to upload exception requests visit - 

Health e-Messenger/Messages/New Messages/COVID-19 questions. For questions about religious exemption policies or denials please email deanofstudents@ucsc.edu.
Student Religious exceptions should be made at this LINK  After completing this form Dean of Students will reach out.
Frequently Asked Questions About the Vaccine
University of California Health COVID-19 Vaccine FAQs
UCSC COVID-19 Vaccine Information for Employees
Vaccine Safety
Is the vaccine safe? 
Yes. The Food and Drug Administration authorized the emergency use of the J&J vaccine. Get more information in the CDC's Information about the J&J COVID-19 Vaccine. UCSC's vaccination locations operate safely using the CDC's guidance for immunizations during the COVID-19 pandemic.
Does the vaccine have side effects?
As with all vaccines, sometimes the vaccination causes mild side effects. These include pain or redness at the injection site, fatigue, headache, muscle aches, joint pains, chills, nausea, vomiting, swelling/tenderness of glands in the underarm area. These are not harmful. Here's what to expect after getting your COVID-19 vaccine. 
What happens if I have an allergic reaction to the vaccine?
Allergic reactions are rare. The Student Health Center will monitor you for allergic reactions before you go home. If you have hives, swelling, or wheezing (respiratory distress) after vaccination, call 911. Use the CDC's v-safe app to let the CDC know about any reactions you have. 
What are the ingredients of the J&J vaccine?
According to the CDC's EUA, "The Janssen COVID-19 Vaccine includes the following ingredients:recombinant, replication-incompetent adenovirus type 26 expressing the SARS-CoV-2 spike protein, citric acid monohydrate, trisodium citrate dihydrate, ethanol, 2-hydroxypropyl-β-cyclodextrin (HBCD), polysorbate-80, sodium chloride."
Vaccine Timing and Protection
Does the vaccine protect against all variants of COVID?
According to the CDC, "New variants of the virus that causes COVID-19 illness have emerged. Current data suggest that COVID-19 vaccines used in the United States should work against these variants." However, "evidence is limited on how the new COVID-19 variants will affect how COVID-19 vaccines work in real-world conditions." Because of this, please continue to wear masks, wash your hands often, practice social distancing, and get tested regularly.
When I'm vaccinated, can I stop testing, socially distancing or wearing masks? What can I do safely?
Good news! There are some new, more relaxed rules for vaccinated students. But first you need to make sure that we know you've been vaccinated by uploading your vaccine card to Health e-Messenger. Go to Medical Clearances, then COVID-19 to add your dates and your card.
Testing:

For asymptomatic tests please refer to campus testing requirements at the top of the page. However, if you feel sick with COVID-19 symptoms, contact the Student Health Center to schedule a test (don't use the kiosks).

Symptom Screening Questionnaire

: If you're coming to campus for any reason, keep doing your daily screenings even if you've been vaccinated.

Mask-wearing:

While on campus, you need to wear masks. Follow the

mask guidelines from the California Department of Health

when you're off-campus within California.

Social Distancing:

Continue to stay socially distanced and follow the

Slug Strong guidelines.
See the CDC's guidelines about what you can do once you're fully vaccinated. Remember to follow the Slug Strong actions to promote a healthy campus:
Complete your daily symptom check

, if you are accessing a campus site

Wear a face covering 

Abide by posted physical distancing guidelines  

Participate in the

asymptomatic testing

program that has been made available for members of our campus community. 

Do not come to work or on site if you are feeling ill

Regularly wash your hands
What should I do if I get my vaccine but then feel sick with COVID-19 symptoms?
Stay home and call your healthcare provider.
I've been fully vaccinated and then I was exposed to a COVID-19 positive person. Should I quarantine?
If you were exposed to a COVID-19 positive person but you've been vaccinated, the CDC says you are not required to quarantine if you meet all of the following criteria:
Are fully vaccinated (i.e., ≥2 weeks following receipt of the second dose in a 2-dose series, or ≥2 weeks following receipt of one dose of a single-dose vaccine)

Have remained asymptomatic since the current COVID-19 exposure

You must self-monitor for symptoms and wear a mask indoors for 14 days after your last known exposure. Even when vaccinated, you can still have the virus in your nose or mouth. It won't make you sick but you can spread to others if you cough, sneeze, laugh, sing, etc.

Test for COVID-19 3 - 5 days after your last known exposure.
Vaccine Requirements
Will the vaccine be required?
The 
UC Office of the President has released
 the 
final systemwide policy requiring COVID-19 vaccines
 of all UC employees and students with some limited exceptions. Answers to frequently asked questions are also available 
for employees
 and 
for students
.
I've been asked to upload proof of my off-campus vaccination - how do I do that?
If you are asked for proof of your off-campus vaccination, use the COVID-19 Vaccine record card you received after your vaccination. Log into Health e-Messenger with your Cruz ID and gold password. Go to Medical Clearances and choose COVID-19. Enter the dates of your vaccine and choose the green Upload button to upload a copy of your vaccine card.
What should I know if I received my vaccine outside of the United States?
UC accepts World Health Organization (WHO) approved COVID-19 vaccinations. Please go to this 
link
 and click on the section titled 
"You can follow the status of COVID-19 Vaccines within WHO EUL/PQ evaluation process here." 
To find out if your vaccine is approved: find your vaccine on the chart, there must be a check mark under the section "EOI accepted" and the word finalized under the section "Status of assessment".
Can international students get a COVID-19 test at the airport?
Having trouble getting vaccines in your country? You can get vaccinated right when you arrive at the airport. Now you can get free COVID-19 tests at the airports at San Francisco (SFO), Los Angeles (LAX), Orange County (SNA John Wayne), and San Jose Mineta (SJC). Testing hours and vaccine supply may be limited, so get more information by calling the airport before your arrival.
How do I get a COVID-19 Vaccine Travel Compliance Letter?
Make sure Student Health Services has a copy of your vaccine record, then follow these instructions:
COVID-19 Vaccine Travel Compliance Letter Instructions
2) Click "Messages" on the left menu.
4) Select "

COVID 19 Vaccine Travel Compliance Letter - 

Global Learning ( UCEAP ,UCDC, Exchange and Global Seminars)"
5) Complete the request process. 
6) You will receive your letter in the Health e-Messenger portal under the "Letters Tab"
Who Should Get the Vaccine
Should I get a vaccine even though I'm young and healthy?
Yes. If you get COVID-19, a vaccine will protect you from long-term effects and will lessen your risk of serious symptoms. Getting a vaccine helps stop the spread of COVID-19 to others who are at greater risk such as grandparents, professors and staff, neighbors, friends with medical conditions, etc.
Where can off-campus students or family members get vaccinated?
They should contact their primary care provider for vaccine information, or visit the County of Santa Cruz Health Services Agency vaccine website.
Can I get the vaccine if...
...I already have or had COVID-19?

Yes, as long as you have recovered and are no longer in isolation.

...I received any other vaccine recently?

Yes,

the CDC updated their guidance

to say that it's ok to get the COVID-19 vaccine if you've had another vaccine recently.

...I need a quantiFERON test (TB blood test)?

Wait four weeks after your final COVID-19 vaccination before you get a quantiFERON test. If you need the test earlier due to a class or other time-sensitive situation, log into Health e-Messenger and select Messages > New Message >COVID-19 Question."

...I am under 18

? The J&J vaccine is available to people over 18. Please contact us if you need help finding a vaccine that is approved for your age range.

...I am pregnant or breast-feeding?

Typically yes, but you should talk to your OBGYN first.

...I am immune-compromised?

Typically yes, but you should talk to your healthcare provider first.

.

..I have a history of severe allergic reactions (anaphylaxis)?

Talk to your healthcare specialist first. Depending on the history, we may ask you to get approval from your allergist or other specialist before giving you the vaccine.

Get more information about allergies and COVID-19 vaccines.

...I have mild seasonal, food, pet or dust allergies?

Yes, the vaccine is safe for those with egg allergies, other food allergies and celiac disease. There are no preservatives. People with mild seasonal, pet or dust allergies may receive the vaccine.



 Resources
Questions?
Emergencies: call 911
Students with health-related COVID-19 questions: Log into Health e-Messenger and select Messages > New Message >COVID-19 Questions
Staff can email check@ucsc.edu for compliance questions - please do not include your personal health information as the email address is not secure. For questions about the vaccine policy and whether it applies to your situation, you can also email SHRhelp@ucsc.edu.

Our nurses can also answer your questions at the time of your appointment.