COVID-19
Student Health Services and all of UCSC is working hard to protect your health and well-being. Get the latest information from Student Health Services here.
UCSC COVID-19 tests are only for active, enrolled students, as well as current staff and faculty who are working on site. Here is COVID-19 testing information for the general public.
Requirements: Symptom Checks and COVID-19 Tests 
COVID 19 symptom checks and testing requirements for Fall 2021 are now in place.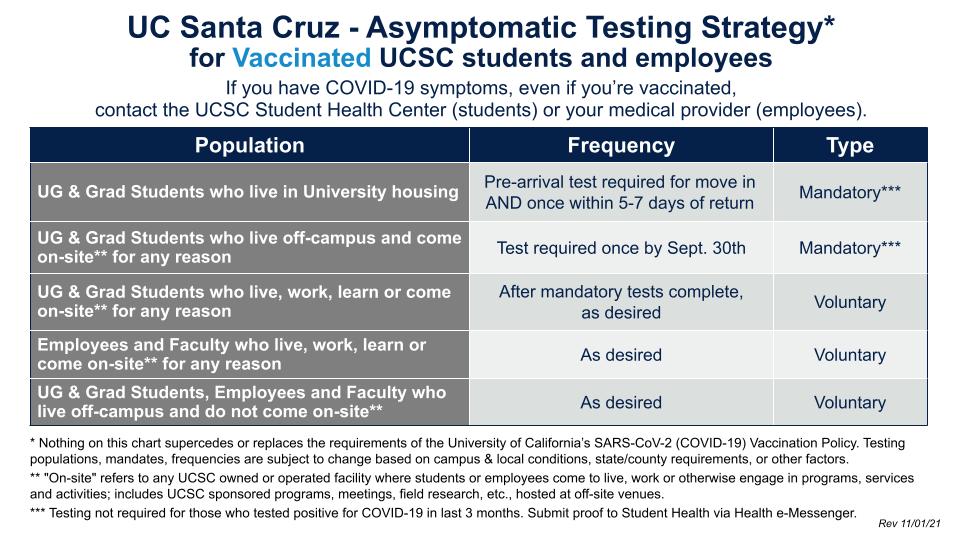 Student athletes: please note that you are still required to test at the cadence defined by the NCAA.
Students, staff, and faculty upload your vaccine card. If you are fully vaccinated and have proof of your vaccine, you are not required to test. However, you need to upload your vaccine card and dates to Health e-Messenger so that we know you're vaccinated. Log into Health e-Messenger and choose MEDICAL CLEARANCES, then choose COVID-19 to upload. (Having trouble getting your digital vaccine card? Here's what to do.)
Continue your daily symptom screenings. Mandatory testing is currently required for unvaccinated people only. However, everyone needs to continue to complete their daily symptom screening surveys.
Contact SHC if you have COVID-19 symptoms or exposure. Any student who is symptomatic or who was exposed to Covid-19 positive person should speak to the Student Health Center Advice Nurse Line at (831) 459-2591. Symptomatic employees should contact their medical provider.


COVID-19 Vaccine Requirements
What to Expect at Your COVID-19 Test